We are specialists in Howard & Sons restoration having restored countless items we have a vast knowledge of how to restore them properly. We see many items re-upholstered incorrectly at auctions and this seriously diminishes the value. See below for a few examples of Howard and Sons items we have restored.
If you would like a quote please email a picture of the item and a brief descriptions of what work you believe it needs (e.g. re-cover, seat repair) to roycoles@gmail.com
Please also view the blog site of an employee of ours where you will find many more of our Howard & Sons restoration projects as well as Howard and Sons items for sale both at auction and privately: http://www.howardsofa.co.uk/
Howard and Sons Bridgewater Armchair Restoration
This armchair came in for restoration in a slightly sorry state.
As well as the obvious re-upholstery needed this chair also required some frame and leg restoration.
Luckily with our skilled staff, this chair is now stronger than the day it was made.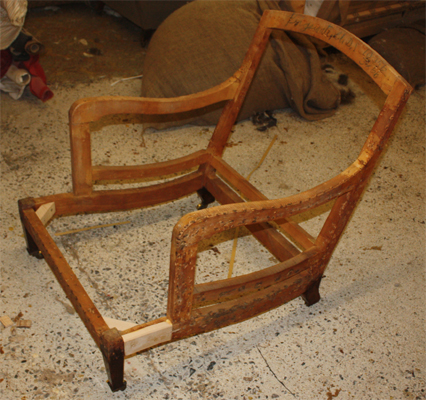 And the legs look great again too.
Original materials reused and revitalised where possible. The original Howard cushions look great after a quick blow with our feather blower.
The finished item, fully restored in the customers fabric.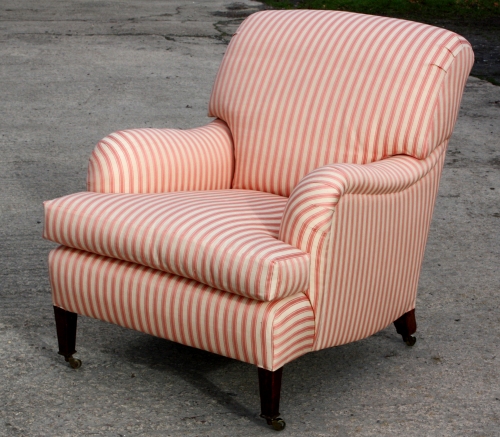 A Howard Castellane Sofa undergoing full restoration:
In the first picture you can see it has not been upholstered properly by the previous upholsterer and the arms have been upholstered incorrectly.
Stripped back to the frame.
Restored, re-using the original cushions with knife edge finish arms as it was originally intended.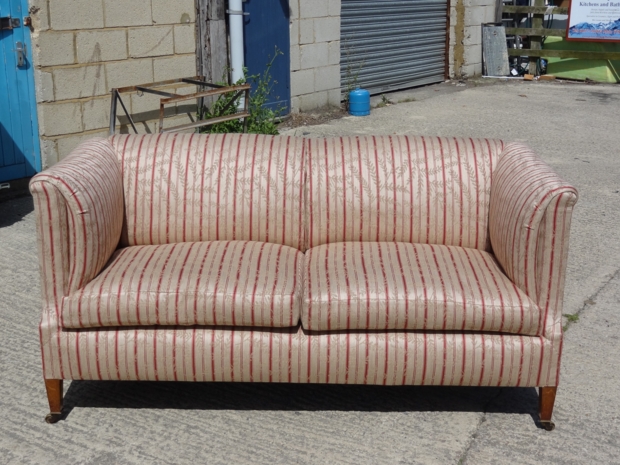 A few more of our favorite Howard and Sons items. Selected based on uniqueness or just a nice fabric, we love a good print!
The closest thing to a Howard and Sons Bridgewater sofa we have ever seen.
A Lenygon and Morant Burlington Sofa
A Howard and Sons curved sofa
A Howard and Sons Club armchair
A Howard and Sons Rocking chair, very unusual spring mechanism to make the chair rock, looks like it could be the suspension from a carriage.
Two Howard and Sons armchairs, an Ivor and a Harley
Howard Chesterfield, covered in a reproduction lining
Two Howard Baring Sofas